Homeschool Program for Ages 8-18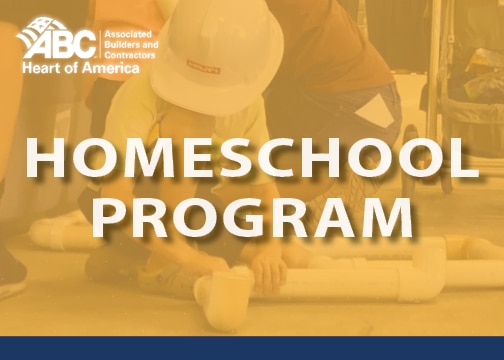 ABC Heart of America is excited to host an Introduction to Construction Careers program for the Homeschool Community.
We believe that every student should have the chance to explore the incredible opportunities that the construction field has to offer. Over this 6-week homeschool program, students will meet at our Kansas City Training Facility for 2 hours every Tuesday. They will learn key concepts and gain introductory knowledge of the construction trades. Through multiple hands-on activities and demonstrations, students will have the opportunity to use some of the tools and materials involved in each presented trade. Each session will be prepared by industry experts to ensure students learn about the exciting world of construction careers while having fun in the process.
Schedule:
Ages 13-18: Tuesdays from 10am to 12pm
Ages 8-12: Tuesdays from 1pm to 3pm
Program Overview:
March 31, 2020 – Week 1

Overview, Safety, Equipment Expo

April 7, 2020 – Week 2
April 14, 2020 – Week 3
April 21, 2020 – Week 4
April 28, 2020 – Week 5
May 5, 2020 – Week 6

General Contracting and Closing Day Cookout
FAQ's:
Will there be a place for parents to wait for sessions to conclude? 

While parents are not required to stay, they are more than welcome to wait in a designated classroom or meeting space if they so choose.

If necessary, am I able to attend the session with my child/children?

We can absolutely make arrangements to accommodate this if needed.

Are classes indoors or outdoors? 

This will depend on the activity/trade and will be a mix. We will do our best to notify parents prior to each session as to what the planned activities for the day will be.

What should students wear? 

Students need to wear closed toed shoes, shirts with minimum of 4 inch sleeves, bottoms that come at least to the ankle. Long hair must be pulled back. No jewelry.  Also please note that some activities could result in attire getting dirty so please make sure attire is appropriate.

What do students need to bring?

A positive attitude and a willingness to learn. All tools and supplies will be provided at each session

Can siblings in different age groups be combined in one session?

No, students must stay in their designated age group's sessions.
The registration for these programs has ended.