Continuing Ed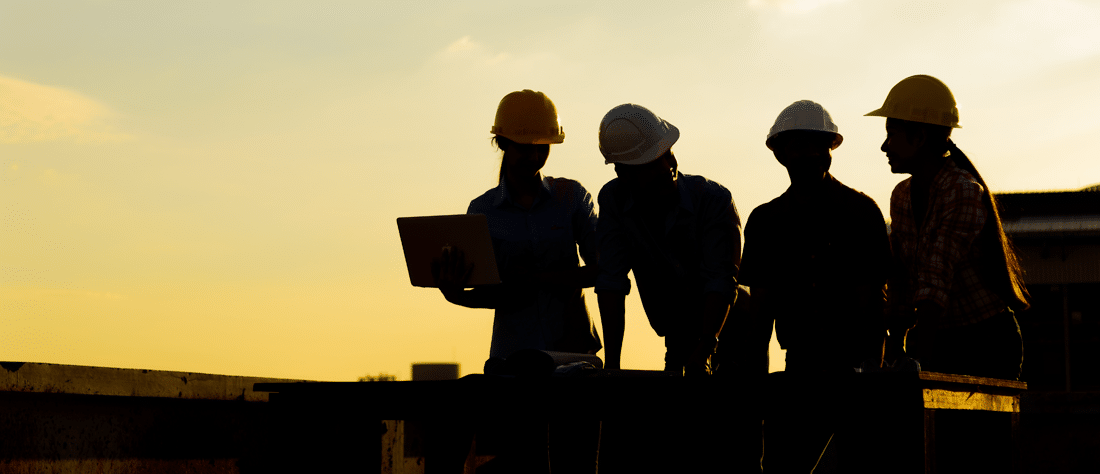 Develop Your Skills as a Leader
ABC offers several of our educational opportunities as on demand trainings available for your team. You can access ABC's professional trainers to deliver education to your team on your schedule. For additional information on availability, customization options, and scheduling, please contact info@abcksmo.org.
An immersive executive leadership program that will take current and future executives to the next level as they build their career in the construction industry.
Successful applicants are committed to personal and professional development as well as the merit shop philosophy and contributing to the industry at large. Learn from industry experts and leadership professionals while building connections with colleagues across the industry in this eight-month intensive educational experience.
$1,950 for 8-month program (Members only) *must be paid in full prior to the start of the program
There was a problem with your submission. Please review the fields below.
Foreman Leadership Training
Learn the basic concepts regarding productivity, time management, effective communication & negotiations all with the aim of driving world-class leadership.
Presented by our esteemed training partner, FMI, this carefully curated one-day training session is tailored for your superintendents, foremen, and field leadership team, providing them with the opportunity to invest in their professional development.
This jam-packed training session is designed to enhance leadership and operations skills, empowering your team to excel in their roles. With an emphasis on key areas such as building trust, effective feedback, essential leadership skills, and the power of exceptional project leadership, this training is comprehensive and practical.
Led by FMI's experienced trainers, this training session is guaranteed to deliver a dynamic and engaging learning experience. Participants will walk away with valuable insights, actionable strategies, and practical tools that can be immediately applied on the job.
Invest in your team's success with this cutting-edge training session. This empowering day of learning will unlock the full potential of your superintendents, foremen, and field leadership team. Don't miss the opportunity to elevate your team's leadership and operational capabilities. Contact us today to get your team scheduled!
$450 Member
$675 Non-Member
Leadership and Management
Examination of the traits of great leaders and great managers
Define the elements of POC (Management) and SAM (Leadership)
Action plan – the steps needed for channeling one's own leadership identity
Understand the value of communication and negotiation
Enhance negotiating skills through better listening and better questioning
Communication & Negotiations
Understand the elements of communication
Understand the role of body language in everyday conversation
Enhance negotiating skills through better listening and better questioning
Identify – "Apollo 13" – An illustration of empowering communication
Project Management Series
Learn management techniques, leadership strategies, and the organizational skills needed to become a successful Project Manager.
The Project Management Series is a comprehensive program developed to teach management techniques, leadership strategies, and the tools and skills needed to become successful and qualified project managers. These are interactive classes based on real experiences and designed to meet the needs of today's companies. This series is perfect for owners, new and experienced project managers, estimators and anyone involved with managing projects. Continuing Education Unites (CEU) available for each class and NCCER certificate awarded upon entire course completion.
$1,500 for all 4 courses Member
$400 for one course Member
$2,250 for all 4 courses Non-Member
$600 for one course Non-Member
7 Habits of Highly Effective Managers
Based on the renowned, worldwide bestseller, 'The 7 Habits of Highly Effective People' by Dr. Stephen R. Covey, this two-day solution empowers frontline managers to effectively manage and engage their teams to achieve sustainable results.
Experience the unparalleled uniqueness of our program, where the powerful lens of the 7 Habits framework is applied to cultivate new mindsets, skills, and tools for becoming an exceptional team leader who consistently delivers outstanding results.
The 7 Habits for Managers is not just another leadership training; it's an intensive, application-oriented learning experience that hones in on the fundamentals of great leadership. Whether you're a seasoned leader, a newly appointed manager, or an emerging leader, this solution is tailor-made to equip you with the capabilities to effectively tackle the pressing leadership challenges of today.
Led by expert facilitators, this program goes beyond theoretical concepts and offers practical strategies that can be immediately implemented in the real world. Through engaging discussions, case studies, role-plays, and interactive exercises, you'll develop the critical leadership competencies needed to inspire and guide your team towards success.
Invest in your leadership excellence with our transformative program, and unlock the full potential of your leadership capabilities. Participate in this unparalleled learning experience and elevate your leadership skills to new heights. Contact us to enroll now!
$575 Member
$800 Non-Member
7 Habits of Highly Effective People
Based on the renowned, worldwide bestseller, 'The 7 Habits of Highly Effective People' by Dr. Stephen R. Covey, this interactive work session is designed to help you master the principles that give us the security to adapt to change and the wisdom and power to take advantage of the opportunities that change create.
Elevate your leadership game with our dynamic event – a leadership refresh designed to help you tackle the challenges of our ever-changing world. As great leaders, it's crucial to constantly sharpen your tools and stay ahead of the curve.
Drawing inspiration from Stephen R. Covey's renowned book, "The 7 Habits of Highly Effective People®," our interactive work session goes beyond trends and pop psychology to focus on timeless principles of fairness, integrity, honesty, and human dignity. These proven principles provide the foundation for navigating change with confidence and seizing opportunities that arise from it.
Led by experienced facilitators, this engaging work session will empower you with practical strategies and actionable insights to enhance your leadership skills. Through interactive discussions, real-world scenarios, and collaborative exercises, you'll gain the wisdom and power to thrive in today's fast-paced, dynamic business environment.
Don't miss this opportunity to invest in your leadership development and equip yourself with the tools to excel in the face of change. Participate in this transformative event and unlock your full leadership potential. Contact us to sign up now!
$575 Member
$800 Non-Member
An immersive executive leadership program that will take current and future executives to the next level as they build their career in the construction industry.

Successful applicants are committed to personal and professional development as well as the merit shop philosophy and contributing to the industry at large. Learn from industry experts and leadership professionals while building connections with colleagues across the industry in this eight-month intensive educational experience.

$1,950 for 8-month program (Members only) *must be paid in full prior to the start of the program

There was a problem with your submission. Please review the fields below.

Foreman Leadership Training

Learn the basic concepts regarding productivity, time management, effective communication & negotiations all with the aim of driving world-class leadership.

Presented by our esteemed training partner, FMI, this carefully curated one-day training session is tailored for your superintendents, foremen, and field leadership team, providing them with the opportunity to invest in their professional development.

This jam-packed training session is designed to enhance leadership and operations skills, empowering your team to excel in their roles. With an emphasis on key areas such as building trust, effective feedback, essential leadership skills, and the power of exceptional project leadership, this training is comprehensive and practical.

Led by FMI's experienced trainers, this training session is guaranteed to deliver a dynamic and engaging learning experience. Participants will walk away with valuable insights, actionable strategies, and practical tools that can be immediately applied on the job.

Invest in your team's success with this cutting-edge training session. This empowering day of learning will unlock the full potential of your superintendents, foremen, and field leadership team. Don't miss the opportunity to elevate your team's leadership and operational capabilities. Contact us today to get your team scheduled!

$450 Member

$675 Non-Member

Leadership and Management

Examination of the traits of great leaders and great managers

Define the elements of POC (Management) and SAM (Leadership)

Action plan – the steps needed for channeling one's own leadership identity

Understand the value of communication and negotiation

Enhance negotiating skills through better listening and better questioning

Communication & Negotiations

Understand the elements of communication

Understand the role of body language in everyday conversation

Enhance negotiating skills through better listening and better questioning

Identify – "Apollo 13" – An illustration of empowering communication

Project Management Series

Learn management techniques, leadership strategies, and the organizational skills needed to become a successful Project Manager.

The Project Management Series is a comprehensive program developed to teach management techniques, leadership strategies, and the tools and skills needed to become successful and qualified project managers. These are interactive classes based on real experiences and designed to meet the needs of today's companies. This series is perfect for owners, new and experienced project managers, estimators and anyone involved with managing projects. Continuing Education Unites (CEU) available for each class and NCCER certificate awarded upon entire course completion.

$1,500 for all 4 courses Member

$400 for one course Member

$2,250 for all 4 courses Non-Member

$600 for one course Non-Member

7 Habits of Highly Effective Managers

Based on the renowned, worldwide bestseller, 'The 7 Habits of Highly Effective People' by Dr. Stephen R. Covey, this two-day solution empowers frontline managers to effectively manage and engage their teams to achieve sustainable results.

Experience the unparalleled uniqueness of our program, where the powerful lens of the 7 Habits framework is applied to cultivate new mindsets, skills, and tools for becoming an exceptional team leader who consistently delivers outstanding results.

The 7 Habits for Managers is not just another leadership training; it's an intensive, application-oriented learning experience that hones in on the fundamentals of great leadership. Whether you're a seasoned leader, a newly appointed manager, or an emerging leader, this solution is tailor-made to equip you with the capabilities to effectively tackle the pressing leadership challenges of today.

Led by expert facilitators, this program goes beyond theoretical concepts and offers practical strategies that can be immediately implemented in the real world. Through engaging discussions, case studies, role-plays, and interactive exercises, you'll develop the critical leadership competencies needed to inspire and guide your team towards success.

Invest in your leadership excellence with our transformative program, and unlock the full potential of your leadership capabilities. Participate in this unparalleled learning experience and elevate your leadership skills to new heights. Contact us to enroll now!

$575 Member

$800 Non-Member

7 Habits of Highly Effective People

Based on the renowned, worldwide bestseller, 'The 7 Habits of Highly Effective People' by Dr. Stephen R. Covey, this interactive work session is designed to help you master the principles that give us the security to adapt to change and the wisdom and power to take advantage of the opportunities that change create.

Elevate your leadership game with our dynamic event – a leadership refresh designed to help you tackle the challenges of our ever-changing world. As great leaders, it's crucial to constantly sharpen your tools and stay ahead of the curve.

Drawing inspiration from Stephen R. Covey's renowned book, "The 7 Habits of Highly Effective People®," our interactive work session goes beyond trends and pop psychology to focus on timeless principles of fairness, integrity, honesty, and human dignity. These proven principles provide the foundation for navigating change with confidence and seizing opportunities that arise from it.

Led by experienced facilitators, this engaging work session will empower you with practical strategies and actionable insights to enhance your leadership skills. Through interactive discussions, real-world scenarios, and collaborative exercises, you'll gain the wisdom and power to thrive in today's fast-paced, dynamic business environment.

Don't miss this opportunity to invest in your leadership development and equip yourself with the tools to excel in the face of change. Participate in this transformative event and unlock your full leadership potential. Contact us to sign up now!

$575 Member

$800 Non-Member