Gain the skills and knowledge necessary to become a professional plumber in Kansas City. Our plumbing apprenticeship program helps you master the fundamentals of troubleshooting, repairing, and installing residential and commercial pipe systems.
Attending plumbing classes or a plumbing school is no way to learn the plumbing trade. Nothing can replace the invaluable on-the-job training provided through our plumbing apprenticeship program in Kansas City. Apply to become a plumber's apprentice through Associated Builders and Contractors Heart of America Chapter.
Apprenticeship Programs for Plumbers
As an apprentice, you will receive hands-on plumbing training supervised by longtime professionals. The ABC Heart of America apprenticeship network is composed of certified builders and contractors who are all committed to improving America's construction industry through worker knowledge and skills development. Quality education and training are a given when you apprentice through ABC Heart of America.
Are you now ready to become an apprentice plumber? Here's what you can expect:
Learn to solder, braze, and use cutting tools to build and install water, waste, and gas systems
.

Troubleshoot and repair complex commercial and residential piping systems alongside licensed Master Plumbers.

Install environmentally sound fixtures according to renewable energy regulations and state codes.
Why Choose ABC?
ABC offers world class training opportunities developed and delivered by industry professionals. By pairing classroom education and on the job training, our students graduate with a leg up on the competition and prepare to excel in their career.
Safety is a top priority in our plumbing apprentice program at ABC Heart of America. We provide comprehensive training and strictly adhere to safety standards and requirements to ensure that our apprentices can work with confidence and peace of mind.
Our apprenticeship program equips you with a wide range of skills that are highly valued in the job market. Through hands-on training and classroom education, you will become a well-rounded and highly capable plumbing professional.
Unlike traditional education paths that often lead to student debt, our apprentices get paid while they learn on the job. This means you can start building your career and earning a living right away.
Completing our apprenticeship program can give you a significant edge in your career. Whether you decide to work for a contractor or start your own company, ABC Heart of America sets you up for success by providing you with the knowledge, skills, and connections you need to thrive in the plumbing industry.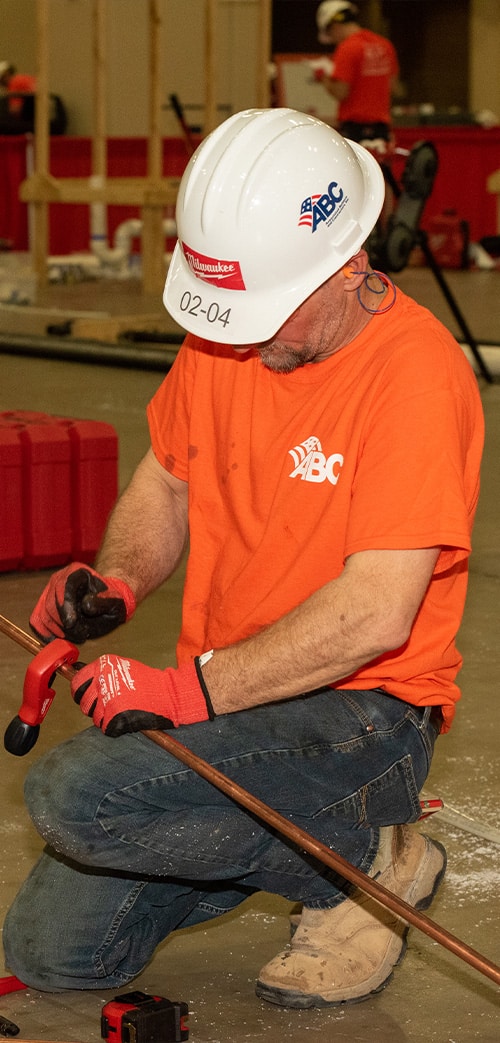 $30.51 Per Hour
Average Skilled Wage Rate
APPRENTICESHIP REQUIREMENTS
Learn how to become a plumber apprentice — see the requirements below.
Apprenticeship Application Packet

Copy of High School Diploma or GED Certificate or Transcript

DD214-Veteran Documentation
(if applicable)

Copy of your Drivers License
Applications to ABC Heart of America must be completed in-person. Prepare copies of the documents above (PDF, JPG, or ZIP file) and bring them with you when you come in to complete your application.
If you have questions about the requirements or the apprenticeship program itself, contact us through our form below.