2017 Excellence in Construction Awards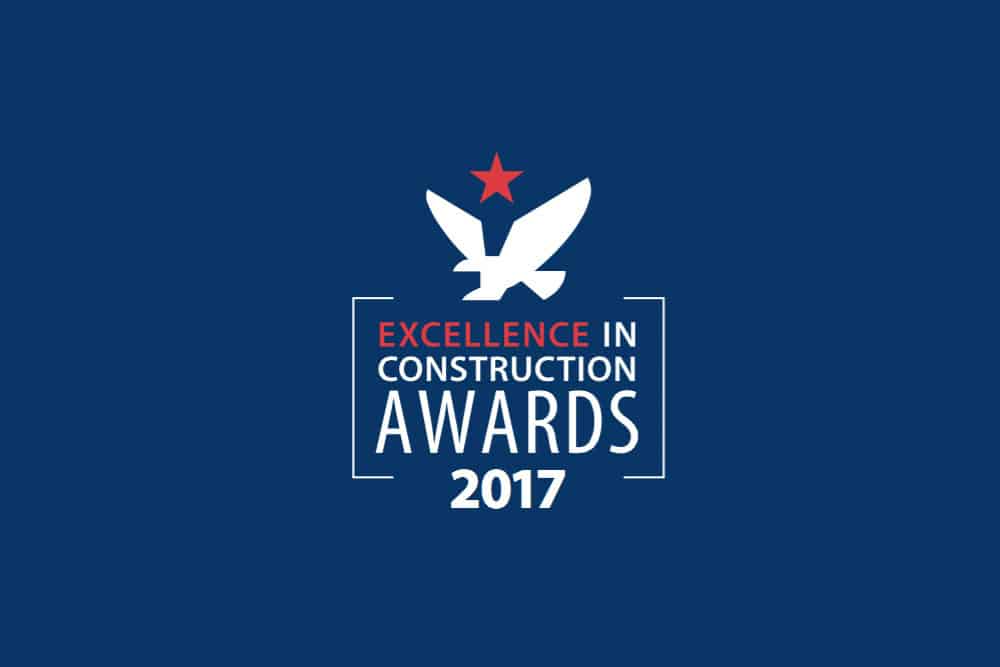 ABC Heart of America's Excellence in Construction Awards (EIC Awards) are given to industry leaders for exceptional performance in safety, craftsmanship, best practices and overall project management and execution. It is important for ABC to recognize these companies and individuals for their hard work because they are the ones that other companies will look to for inspiration throughout the year.
Top-Field Employee Award Categories
The awards listed below are given to specific employees who stood out while working on complex projects throughout 2017.
SUBCONTRACTORS
Electrical Commercial/Institutional – Under $250,000
Electrical Commercial/Institutional – Over $750,000
Electrical Industrial – Over $750,000
Interior/Exterior
Mechanical Commercial/Institutional – Under $250,000
Mechanical Industrial – Under $750,000
Mechanical Industrial – Over $750,000
Specialty
GENERAL CONTRACTORS
Commercial – $5-$10 Million
Commercial – Over $10 Million Healthcare
Historical Renovation/Restoration Industrial – Under $5 Million
Infrastructure: Heavy Institutional – Under $5 Million
Institutional – Over $5 Million
Public Works/Environmental Specialty
2017 STEP Awards
STEP stands for Safety Training and Evaluation Process. These awards are given to companies that have shown excellence in safety performance through implementation of the STEP program. The recipients of these awards are broken into four levels. Diamond, platinum, gold, and silver. ABC's STEP Diamond participants are 720% safer than the industry average and experience an 86% reduction in TRIR rates.
2017 Heart of America STEP Award Recipients
DIAMOND
Canyon Concrete, Inc.
Fogel-Anderson Construction Co.
Nabholz Construction
Shawhan Sheet Metal LLC
PLATINUM
American Boiler & Mechanical
ARCO National Construction – KC Bart's Electric Company, Inc.
Emery Sapp & Sons, Inc.
hth companies, Inc.
Industrial Construction & Engineering Co.
Killian Construction Co./KCC Contractor, Inc.
Robinson Construction
GOLD
Crossland Construction Co., Inc.
Crossland Heavy Contractors, Inc.
Division 7, Inc.
Herzog Contracting Corp.
Lee Mechanical Contractors, Inc.
Neighbors Construction Company, Inc.
Prosser Wilbert Construction, Inc.
Schultz Brothers Electric Co.
Teague Electric Construction, Inc.
Thermaltech, Inc.
Tradesmen International
Wachter, Inc.
SILVER
AMF Electric, Inc.
Chief Heating & Cooling, Inc.
Dahmer Contracting Group Electrical Associates
Excel Constructors, Inc.
HarenLaughlin Construction LBA Mechanical
Mega Industries Corporation
2017 Heart of America Anniversary Awards
The Heart of America Anniversary Awards are given to companies who have been ABC Heart of America members for a number of years. Founded on the merit shop philosophy, we help members develop people, win work and deliver that work safely, ethically and profitably to better the community. To see the list of Anniversary Awards recipients please refer to the link at the top of this post.
2017 EIC Project Submission Awards
This award is given to companies that did exceptional work on specific construction projects in 2017. It honors both general and specialty contracting companies for unique, high-quality merit shop construction projects. Contenders are judged based on complexity, attractiveness, unique challenges overcome, completion time, workmanship, innovation, safety, and cost.
THE SHERIDAN AT OVERLAND PARK
Excel Constructors, Inc.
The Sheridan at Overland Park is a 98,860 square foot, steel-framed, three-story, assisted living and memory care facility at City Place located in Overland Park. This facility features 116 apartment homes with a variety of distinctive floor plans spanning the space of three floors, each with its own dining space, activity areas, and living rooms. The living facility also consists of an art studio, a fitness center, a salon, and physical therapy spaces.
RAYMORE-PECULIAR HIGH SCHOOL ADDITION AND RENOVATION
Crossland Construction Company, Inc.
With extensive experience in building educational facilities and a reputation for excellence and timely delivery, Crossland Construction Company was selected for the high school project. An additional 104,000 square feet was added to the current facility, and 90,000 square feet of the existing space was renovated. Today, the school measures 270,000 square feet and is home to high school students in grades nine through twelve.
PICKWICK RENOVATION
HarenLaughlin Construction
The Pickwick Plaza renovation project consisted of re-purposing the office and apartment towers into 260 luxury apartment units and retail space and renovating the bus terminal into tenant amenity and retail space. The parking garage underwent extensive structural repair and is now open as a parking garage for tenants. Additionally, The Pickwick building was restored per National Park Service Historic Restoration Standards. The total duration of the renovation totaled 22 months, and HarenLaughlin Construction self-performed 14% of the work.
Why the Excellence in Construction Awards are Important
We feel that rewarding exceptional craftsmanship, outstanding project management and execution, and implementing high safety standards sets a standard in the industry and improves it as a whole. Acknowledging the hard work and dedication each of our members and their employees put into their projects is extremely important to ABC Heart of America. The Excellence in Construction Awards help facilitate positive changes and innovation in the overall industry. With that said, we would like to thank everyone who participated in the ABC Heart of America 2017 Excellence in Construction Awards!