Women in Construction Week: Insights from JoLynne Bartolotta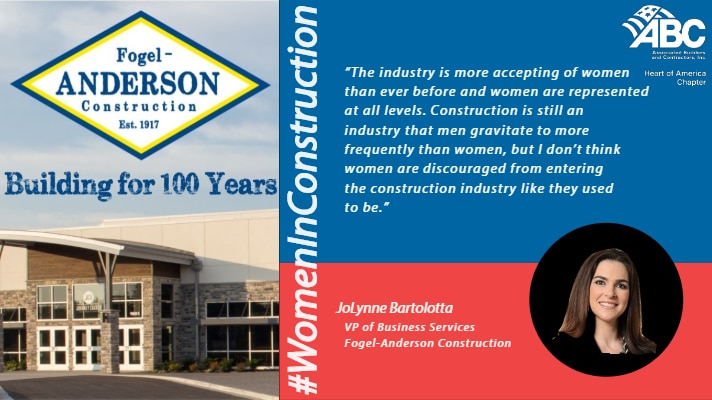 More and more women are finding their careers in the construction industry than ever before. Women are entering the construction industry as craft professionals, executives, project supervisors and more. The focus of WIC (Women in Construction) Week is to highlight women as a vital part of the construction industry and raise awareness of the opportunities available within the industry.
Inspiring More Women to Enter the Construction Industry
Because of the current labor shortage in the U.S., the construction industry offers stable and viable job opportunities to women across the country. It is refreshing to see so many women entering the lucrative industry and inspiring others to do the same.
Let's take a look at what JoLynne Bartolotta from Fogel-Anderson Construction Co. has to say.
JoLynne  Bartolotta is currently the Vice President of Business Services for Fogel-Anderson Construction Co. JoLynne has been in the construction industry for 15 years and has given some insight on how the industry has changed over the years.
Bartolotta says, "The industry is more accepting of women than ever before and women are represented at all levels.  Construction is still an industry that men gravitate to more frequently than women, but I don't think women are discouraged from entering the construction industry like they used to be."
Bartolotta also addressed how the digital age has affected the industry. She says, "Technology has changed dramatically over the last several years, which has made the exchange of information much more efficient.  Design information can be transmitted to and from the field instantaneously to multiple people, whereas before, asking for a simple detail required a long paper trail that stopped at multiple desks.
The construction delivery method has also changed.  We are seeing more projects delivered via a Construction Management or Design-Build approach than the traditional Design-Bid-Build model. This creates a more collaborative relationship between Owner, Architect, and Contractor. The result is better designed buildings and less contentious projects."
Although changes have created a more streamlined process for building, there are some questions about where the industry is heading. Bartolotta states, "As the world adapts to online shopping, driverless transportation, alternative energy, and other technological changes, it will be a challenge to figure out what types of buildings need to be built, and how to reconfigure obsolete buildings to future needs."
With the industry changing and adjusting to the digital climate, there is a need for problem solvers and professionals who are ready to tackle these changes head on and now is the perfect time for women to step in and take on the challenge.
Opportunities for Success in the Industry
The construction industry provides an opportunity for women to not only learn marketable skills, but enter a growing industry that offers financial stability.
Construction offers a well paying career with room for growth and competitive salaries. According to the U.S. Bureau of Labor Statistics, the industry has a lower gender pay gap than other professions. It is reported that on average women make 80 cents for every dollar earned by a man. In construction trades, women make 93.5 cents to the dollar.
ABC Heart of America is committed to recruiting and training women to thrive in the construction industry and grow a diverse and inclusive construction workforce. To learn more about construction career opportunities, contact us today.