World-Class Safety with STEP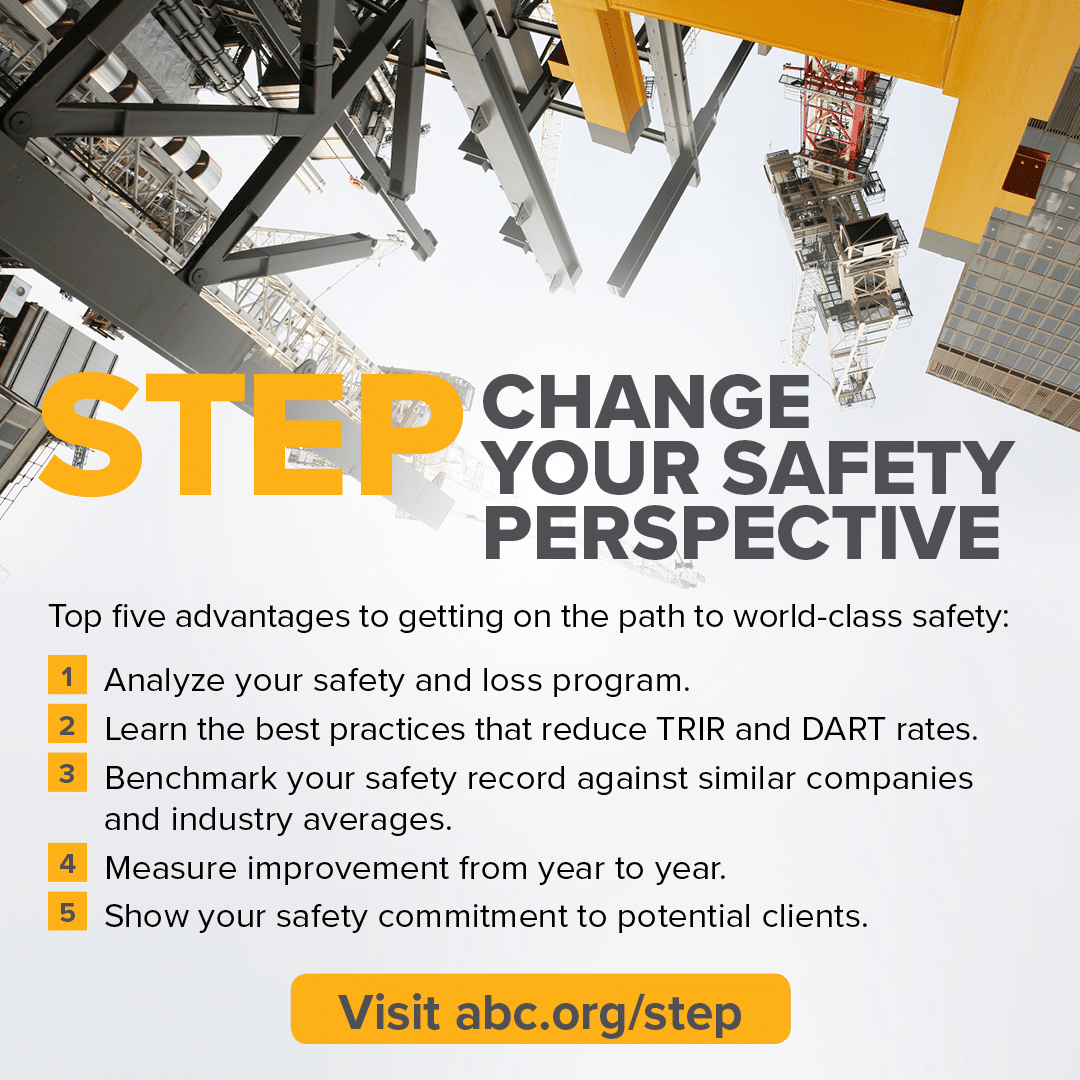 Achieve World-Class Safety with ABC's Safety Management System: STEP
What if your company could be 680 percent safer than the industry average?  What if you could reduce your total recordable incident rate by 85 percent? ABC member firms that participate in ABC STEP have shown that these statistics are attainable with this world-class safety program.
What is STEP?
STEP is a world-class safety management system that was founded in 1989 as a benchmarking and improvement tool. STEP allows participating ABC member firms to measure their safety processes and policies on 24 key components with the goal implementing or enhancing safety programs that reduce job-site incidents.
How Does STEP Work? 
Scores are given based on the company's level of achievement for each component on a weighted point scale and their incident rates (TRIR and EMR). Additionally, levels are based on the data provided. These levels include: Diamond, Platinum, Gold, Silver, Bronze, or Participant. Furthermore, construction firms that achieve Diamond or Platinum ratings are eligible for the Accredited Quality Contractor (AQC) program.
Why Participate in STEP?
While there are many reasons to participate in STEP, there is one reason we are sure that any company can agree on.  Above all, you want to be able to send your employees home safely each night. Your company can take the first steps to ensuring this happens for your company by getting started with STEP. It is free to start and most importantly, it can also help lower your company's workers compensation insurance rates.
Who Can Participate?
Any current ABC member firm that wants to improve their company's safety performance is welcome to apply. Commercial and industrial contractors, as well as supplier members, are among those who qualify. See ABC's 2019 Safety Performance Report for more information on the impact STEP has on company safety performance.
How Do I Apply for STEP?
ABC Heart of America's STEP deadline has been extended to Wednesday, July 31, therefore, you still have time to submit your application for this year. Companies wanting to apply can do so here.  If you require any additional assistance, please call our office at 816-994-5990 to speak with our Training Manager, Aubry Cottrell.
2018 STEP Recipients
Please join us in celebrating the companies who have demonstrated an ongoing commitment to safety with their participation in STEP:
Diamond:
Platinum:
QuesTec Mechanical
Robinson Construction
Nabholz
Fogel-Anderson Construction Co.
American Boiler & Mechanical
Gold:
Thermaltech, Inc.
Tradesmen International
Lee Mechanical Contractors, Inc.
Silver:
Mega Industries Corporation
Excel Constructors, Inc.
LBA Mechanical
Sieve Contractors, Inc.
Crossland Heavy Contractors, Inc.
Herzog Contracting Corp.
Chief Heating & Cooling, Inc.
Straub Construction Co., Inc.
2019 STEP recipients will receive recognition later this year at our annual Excellence in Construction Awards Banquet held at the Midland Theatre on Thursday, November 7, 2019.