Construction Training Programs: Become an Electrician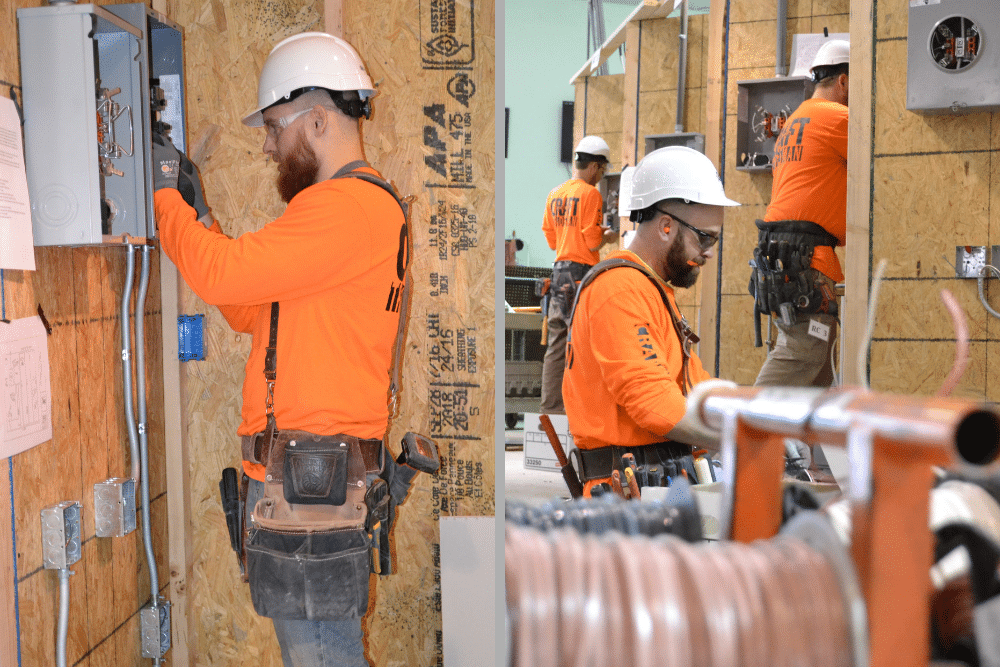 Have you ever tried to do anything without electricity? It is necessary for our society to function. Not only will you make great money if you decide to become an electrician, you will never be out of a job – unless of course people decide to go back to living their lives by candle light.
Becoming an electrician is a great choice if you want to make a substantial living working with your hands, learn the ins and outs of intricate power systems, and problem solve issues that no one else but a trained electrician can!
How to Become an Electrician
To become an electrician you have to first enroll in an electrical training program. It is extremely important to learn how exactly electrical components work together that charge the world we live in.
Our electrical training program at ABC gives you the tools and skills you need to confidentially enter the workforce and be successful within the industry. The first step towards a rewarding career in the electrical field is filling out your application.
After your application is complete and accepted, you will begin classes and start getting paid to work in your field.
The training you will receive at ABC gives you the competitive edge you need to succeed as an electrician. After your paid apprenticeship you will enter into an ever growing industry that provides both financial stability and job security with little to no debt.
What Does an Electrician Do?
Electricians are absolutely vital to a construction project. They handle one of the most powerful forces in the world to light up buildings and homes around the world.
On a regular basis electricians design, install, and troubleshoot advanced electrical components, wiring, and control systems. Almost every electrical professional uses problem solving and math skills to navigate blueprints, program equipment within commercial and industrial buildings, and design or consult their client on the design of their electrical layout.
Electricians also regularly utilize innovative advances such as alternative and sustainable energy systems, systems technology, and programmable logic controllers.
If you decide to become an electrician, you will develop a skill set that few have but many need.
Where Do Electricians Work?
Many electricians begin working for a construction contracting company or a company that specializes in electrical installation, integration, and programming.
Electricians work in a wide variety of environments. These work environments include:
Commercial buildings
Industrial buildings
Residential homes
Because the size of these buildings vary greatly, the scope of work will also vary based on the electrical needs of the space. Electricians can work in or outdoors depending on the job and their company's niche market and their skills are needed all over the globe.
In short, as you progress in your career, you can work almost anywhere.
After working in the field and developing valuable knowledge and experience, many electricians move into supervisory or management roles, some even branch out and start companies of their own!
Why Choose ABC Electrical Training
ABC is a respected organization that holds the highest standards of safety, quality, and integrity when it comes to training students and existing industry professionals. Workers who complete their credentials through our program carry our positive reputation into their own careers.
Our program is more than just in-class assignments and book work, we offer on-the-job training programs because we want our students to know exactly what to expect when they walk on to that job site. A career in the electrical field is not only rewarding, but it also gives you the financial freedom to pursue your passions outside of work and create the life you have always wanted.